Experience Alaska Brown Bear Hunting in the heart of the Aleutian Range. We hunt Private Native Owned Land and Refuge Land in an area called the Black Lake Refuge. Hunt from the coast of the Pacific Ocean to the Bering Sea. Take advantage of our Exclusive right to enter and Hunt a well managed area.  Our base is located by the historic fishing village of Chignik Lagoon. It is a highly acclaimed destination which encompasses the richest Brown Bear habitat. It is in this wild country you can hunt the largest Brown Bears in the world.  But historically our area has been studied by the Alaska Fish & Game and US Fish & Wildlife for its Brown Bear density. Our target is a mature and exceptionally sized Bear in the 9' and 10+ range.
Hunting strategies hinge on the season because there are some differences. In the Fall you have shorter days, as a result, sunrise and sunset are the pivotal hours for Big Bears. Although hides are not rubbed, they are thinner. Ultimately Bears have the most weight on in the Fall. Alternatively, longer days in the Spring equate to more hours behind your binoculars. Bear hides are full and a small percentage are rubbed. Intercepting Boars en route to Sows in estrous is your primary objective. Wether you are an Archery or a Rifle hunter we have the professional experience to guide you. All small plane transportation from our base of operations in Chignik Bay to our many Bear Camps is included. We operate our own aircraft which include two Super Cubs for all bush flights. Come to Alaska Brown Bear Hunting and experience what we have to offer.
"I am amazed at what a Brown Bear is capable of, it continuously stretches its boundaries in habitat, has the most complex social structure and as individuals have unique behaviors including infanticide. After all they are a higher order species. To hunt a truly large bear one has to adhere to a code as a Bear Hunter, managing his own scent and acting only with a deft and decisive action." – Cash Joyce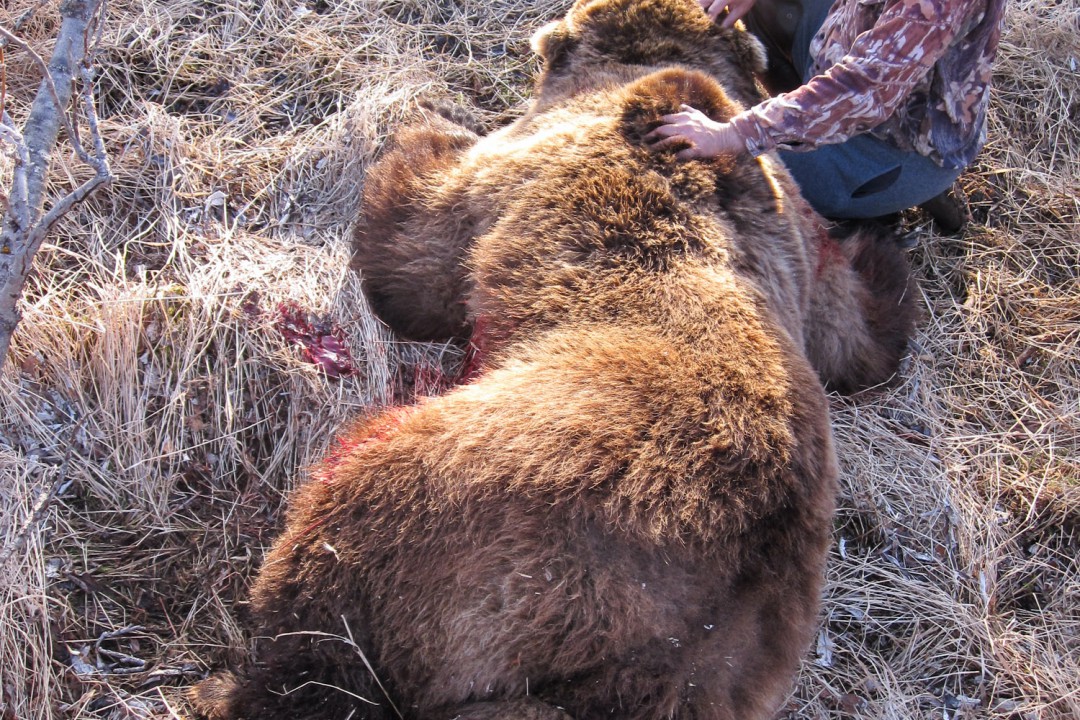 Seasons of our Brown Bear Hunts
Spring Bear Hunts  2021 – 2022 – 2024  May 10 – 25
Spring hides are most full and developed but have occasional rubs. With the onset of spring, the Bears are emerging from their dens and mating season gets underway. Base Camp living and spot and stalk Bear Hunting.
Fall Bear Hunts 2021 – 2023 – 2025  October 7 – 21
Fall hides are full but thinner and not rubbed. The Bears have accumulated their winter weight and are feeding on Sedge, Salmon, Oceanside forage and Berries. Base Camp living, glass from vantages and high-points then Stalk to position.
Vast Alaska Hunting Trips